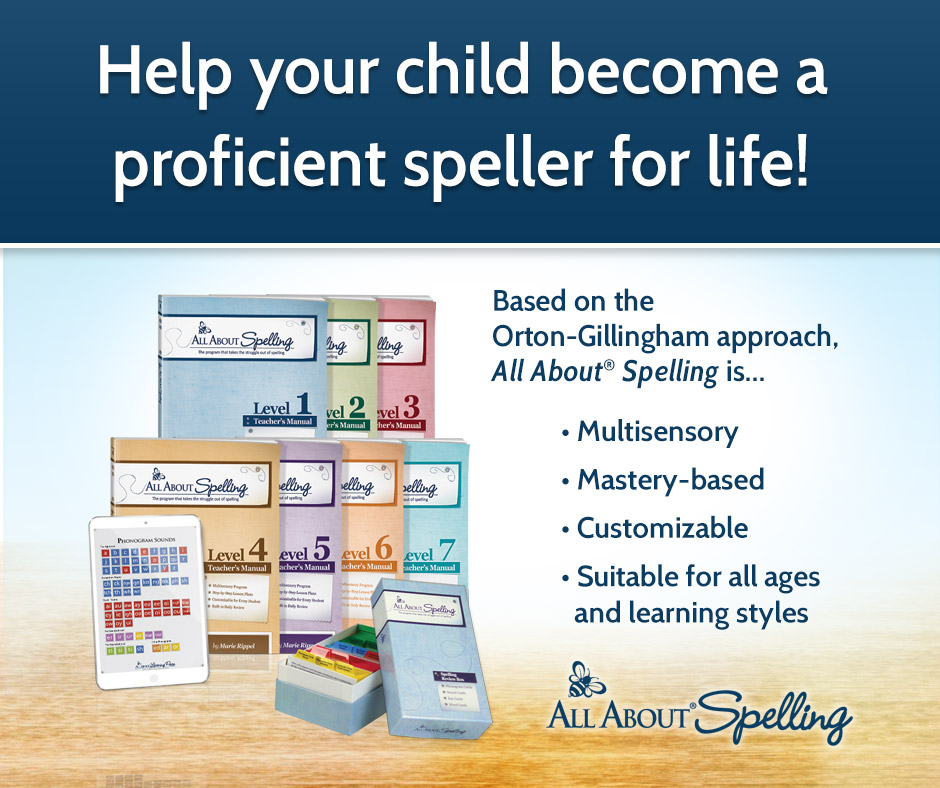 I am always getting questions about what kinds of programs and curriculum I use for my kiddos. There is always someone in my neighborhood that decides to homeschool, they are lost as to what they need to do. I love being able to answer their questions and help them begin the journey of homeschooling. I also enjoy talking to veteran homeschool moms because I find that I still need help and encouragement on my homeschool journey. There is always something new to learn or something that just needs to change with how or what I am teaching my children. In the hopes of helping a fellow homeschool family, I wanted to share one of my favorite programs with you all today.
For a couple of years now I have wishing I had
All About Spelling
but just didn't have the funds to purchase it along with other curricula I was wanting to buy. I was using other spelling programs that just were not working and some of my children were not improving on reading or spelling. This year I finally decided I needed to try
All About Spelling
. I love the program because it is phonics based and easy to use. There is very little planning involved on my part. I just follow what the lesson says. Lessons can take as long or as little as I feel they need to. I started 3 of my kids on level one. My oldest probably didn't need to be started there but his spelling is horrible and it was easier to start all 3 on the same level. We finished level one very quickly, so I ended up buying levels 2 and 3 as well.
All About Spelling was written by Marie Rippel using the Orton-Gillingham approach. The Orton-Gillingham approach combines several elements that result in an effective method of teaching spelling and reading. The Orton-Gillingham method was developed over 80 years ago and is still very effective. If you are interested in knowing more about the Orton-Gillingham method please download the free report here:
Orton-Gillingham Report
.
The elements used are:
Multisensory
- Multiple pathways to the brain are used such as auditory, visual and kinetic.
Sequential
- Lessons are planned in a well-planned sequence that makes sense.
Incremental
- With a no gaps approach, students easily move from simple to more complex concepts.
Cumulative
-Regular, consistent review leads to long-term learning.
Individualized
- Allows for the student to go as fast or as slow as necessary.
Phonogram Based
- Simplify why words are spelled the way they are by breaking them into phonograms.
Explicit
- Students are taught exactly what they need to know in a clear and straightforward manner.
To be successful in teaching all the methods, you will need to purchase the deluxe spelling interactive kit which includes the items pictured below:
Bag
Phonics Tiles
Stickers
File Box and Dividers
I also recommend downloading the Free
Phonograms sounds
app.
Also Helpful to purchase is a Magnetic Dry Erase Board
My tiles are a little unorganized, but you get the idea.
The letter tiles make it easy and fun to spell out words on the dry erase board. I have learners that like using the tiles and moving them around, and learners that prefer to use a dry eraser marker to write the words out. I love that the vowels are all on red tiles and the consonants are on blue tiles. It makes it easy to tell them apart.
Each Level
Includes a Teachers Manual and a student packet. The student packet includes phonogram, word, and spelling rule cards.
My kids really enjoy this program because they are gaining confidence in their spelling abilities as they are learning the spelling rules. They love that the lessons are short and build upon each other.
Have you used
All About Spelling?
or All About Reading? Leave a comment below, what do you love about it?
*This post contains affiliate links. This means I may receive a small commission if you choose to purchase something from a link I have posted. It won't cost you anything extra. This small percentage just helps me keep my resources free. I appreciate your support. I have given my honest opinion on a product I think you will love.